Making Friends to "Nerd Out" With!
College is a great time to meet people with similar interests as you.
I attended a small High School in a small town that smelled like manure. Don't get me wrong, Coupeville, Washington is a beautiful place and I will always cherish my times there, but meeting other rock lovers like me was scarce. Most of my friends had completely different dreams for their futures and we had things in common, but when we went to the beach (did I forget to mention Coupeville is on an island) I was the only one that freaked out at the varying rocks. I'm not crazy, but I did wish to find someone as excited as me over an agate or common grey rock. My friends admired some and brought me pretty rocks to look at, which was always nice.
When I headed up to UAF, a teacher of mine told me that I will meet friends with similar, specific interests along with other fantastic people with others. Orientation introduced me to my best friend up here and I have had the opportunity to meet and grow close to other great people. When I entered the Geological Engineering department and sat down for my first Geology classes, I found my fellow rock lovers. They were just as crazy as me over the rock and mineral samples spread out in front of us! It was a wonderful feeling I hadn't experienced before.
Over the past year I bonded to those people and am still excited everyday because we share the same enthusiasm. There are also fun, different activities we can do together that might not be as appealing for some of my other friends. This weekend I can happily say a group of us are going to head out south of Paxson (so a 3.5 hour drive) to go searching for Fluorite, a beautiful mineral!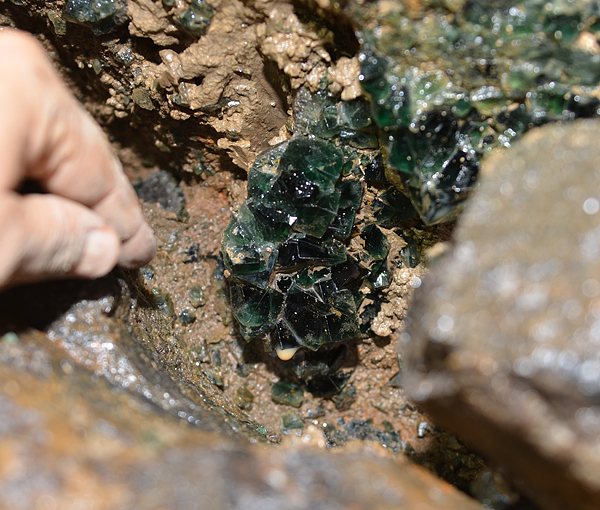 "Dang! That's a fine mineral" said Every Geologist, ever
I heard rumor of it being in a certain area, and so I said to my friends "Hey, there's fluorite out in the woods...somewhere near Paxson...and there's bears..." and their responses summed up were, "We NEED some of that mineral! Heni, we're going. The bears will run away when they see our determination"...and we'll see about the bear thing. Some spray is probably coming with us anyways. But it was completely awesome that even though I don't have many details, the trip was set and planned.
The predicted bear's response from our determination
So, we'll hike for a few hours to where the deposit may be, and start digging/prying/dancing and splashing water to uncover minerals. Then a hike back, not-too-long drive, dinner, and hopefully fluorite cleaning!
Spontaneous rock hounding trips, I never thought I would find these adventures so soon. It really is fantastic to have these friends who I can relate to on this level.
In college, you will meet all sorts of people, and most likely find those who are enthusiastic about the same things as you. Or if not enthusiastic, that have the same feelings towards certain things. You just have to get out there and see what clubs you can join, find people to relate to in classes, or go wander around you department at odd hours. You're bound to find at least one person.
And with the friendships you make, don't take them for ...Granite!
...get it? Like...granted....yeah, rock humor